GTA V Online: "Beach Bum" Update is Now Available — Details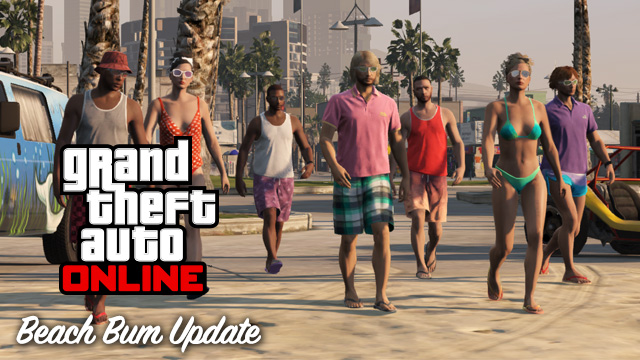 Rockstar Games has decided for Grand Theft Auto V to go with one of the most generous trends lately which is free content with free updates. You can expect the usual paid DLC but Rockstar wants to take it a step forward and give back to their fans as much as they can with the "Beach Bum" Update available now for the PS3 and Xbox 360. Not only does this update give your usual game optimization and fixes to the single player and online aspects of the game but it also adds additional content to the game such as:
NEW VEHICLES, WEAPONS & MORE
You will have access to new races with the BF Bifta dune buggy, the rugged Canis Kalahari off-road truck,  and the Bravado Paradise beach camper van. Also take to the ocean with the classic speeder speedboat. All four vehicles can also be accessed in Story Mode and are available with no additional in-game cost and to get them online visit the southernsanandreassuperautos.com in-game website (or docktease.com for the Speeder). New weapons include the new SNS Pistol & Broken Bottle for both online and offline. You also get access to new cloths fit for going to the beach.
On top of all of this you will also get 30 new Jobs to GTA Online which includes new beach-themed Races, Deathmatches, Parachutes, Last Team Standings and Gang Attacks, plus the beachfront "Survival on Del Perro Pier" and more.
So what are you waiting for? If you lost interest or just bought a next gen console this should give you reason to jump back into Los Santos. For an in depth breakdown of the update and all of the additions go to this rockstargames link.