Call of Duty: Black Ops Annihilation Now Available on Xbox Live
All-New Map Pack and Gripping Zombies Experience Set to Annihilate Xbox Gamers Today
From Activision/Blizzard: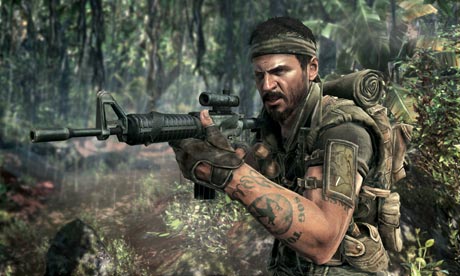 SANTA MONICA, Calif. , June 28, 2011 /PRNewswire/ — Call of Duty®: Black Ops, the best selling game ever on the Xbox 360®, today unleashes a new onslaught of combat with a fresh delivery of downloadable content, Call of Duty®: Black Ops Annihilation.  Available now worldwide on Xbox LIVE, Annihilationdelivers four new multiplayer maps and a mind-blowing Zombies experience for the ultimate online showdown.
Annihilation is the third downloadable content pack release from Activision and Treyarch in support of the worldwide phenomenon and record-setting Call of Duty: Black Ops.  Fueled by the breakthrough Call of Duty®: Black Ops First Strike and Call of Duty®: Black Ops Escalation content packs, the blockbuster title is recognized for having the highest selling add-on content in Xbox LIVE history, according to Microsoft.
The Annihilation content pack's new maps include:
"Hangar 18," located in the highly classified military base of Area 51, where gamers will fight through experimental weapons labs, the SR-71 test hangar and a mysterious autopsy room.
"Drive-In," where players experience close-quarters combat through a 1960's American Drive-In theater, complete with a snack shack and a classic arcade.
"Silo," where-in gamers can infiltrate a massive secret Soviet nuclear missile site under construction within a multi-level battleground.
"Hazard," located on the cliff sides of Cuba , gamers can explore a coastal golf course fit for a Dictator, where stocked clubhouses and manicured fairways meet snipers hidden in sand traps.
"Shangri-La," the all-new Zombies experience, transports players into a mythical paradise overrun with the undead. Our Heroes will come face-to-face with new species of zombies and navigate through a treacherous labyrinth of underground caverns, all set within a legendary shrine lost in an exotic jungle.
"Our commitment to delivering great new content for Black Ops continues with Annihilation," said Treyarch Studio Head, Mark Lamia . "Annihilation offers four of the best Black Ops multiplayer maps to date, and a stunning new Zombies experience laden with deadly traps and dark secrets buried deep within the shifting walls of the infested temple."
To celebrate the launch of Call of Duty: Black Ops Annihilation, Activision and Treyarch today are hosting a "Grudge Match" on Xbox LIVE at Treyarch.  Jason Terry of the Dallas Mavericks and Rudy Gay of the Memphis Grizzlies will lead teams in a head-to-head match-up featuring members of the Treyarch development team and Call of Duty: Black Ops fans.